---
The New England Real Estate Company Guide in Professionally Marketing your home for sale.
Our Sellers Guide in listing your home with The New England Real Estate Company
First, about us.
The New England Real Estate Company is a locally owned independent real estate brokerage, founded in 2011. We understand Maine. And we understand the importance of working with a trusted company.
Our Belief is Simple.
To provide our clients with a fresh, professional and straightforward approach to real estate with an old fashioned New England work ethic.
Our Passion is Maine.
We represent, market and sell Maine's finest farms, homes, land & waterfront properties. We represent both buyers and sellers throughout Knox, Lincoln and Waldo counties, serving the towns and island communities of Midcoast Maine.
Our Difference.
A local company dedicated in serving our clients with what they strive for most in today's Midcoast Maine real estate market…timely communication, impeccable client services, over 100 years combined of real estate experience at all levels and a professional marketing plan of their property.
Our Location.
Unlike any other single real estate brokerage, our office is located at 98 Elm Street in the heart of Camden, at the Entrance to Camden where more potential buyers first visit each year while visiting Midcoast Maine. Its location truly represents the golden three rules of real estate...Location, location, location. Expose your listing to the highest walk-in traffic and drive-by traffic than any other real estate company in Midcoast Maine.
Professional Signage.
While others continue to use inexpensive "push-in" signage, we believe in professional signage as seen in our classic New England white metal yard signs and riders. Look for them to raise the standard of real estate locally.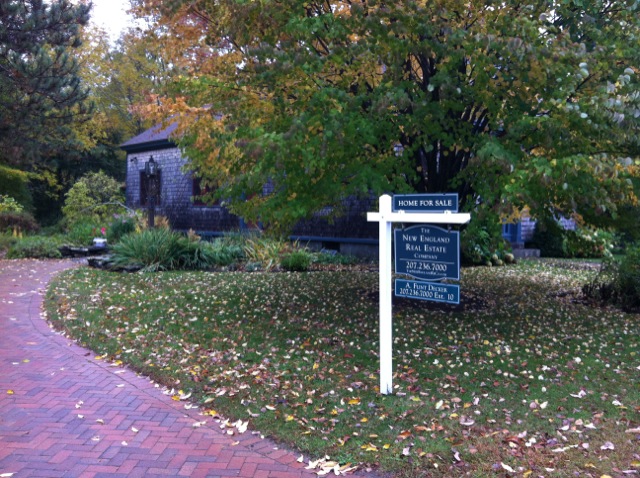 Professional Marketing.
Look for our presentations of your home to be above the rest, in print, on the web, on the MLS, in our office windows, and in the local media. All professionally designed to help sell your property faster.
Our listings are professionally written to take advange of all the best aspects of your property, communicated in a timely manner and ready for today's buyers, first visiting your home on the web, then in person.
Professional Photography.
Today...pictures are everything in professionally selling a home. Our goal is to present your home highlighting it's best views - either by the air over water or inside with detail interiors - our photography is among the best seen in Mid Coast Maine.
Here are examples seen in the quality we take in our photography of your home.
We will always capture the best photography and write the best copy for your property and put it up in a timely manner on the MLS, complete with all the best angles, interiors and yes, even that special favorite walking path in the backyead that others have only missed.
And last, Today's Buyers are 100% on the web - Where we have positioned ourselves best to meet them first...Its that simple.
Today, virtually all buyers first surf the web in their initial home searches, either by Trulia, Zillow or by our local MLS search service, Maine Listings.
This is why our brokers have chosen to become Professional Members of our MLS system, trained on our Flex-MLS system for the ease of searching properties for you as well as on Trulia or Zillow and why are website is already opitimized for your smart-phone or tablet - all for your ease of use - so you can find that perfect property today.
This is why we place so much importance on being just that much more "techie" vs. all others and how we then, gather more buyer leads than others for you, our sellers...its that simple.
Please visit our webpage, "Our Difference - Our Brokers" for more information on representation today.
Also, please reach us at your convenience at 207.236.7000 or 888.236.7015 or simply send us an email to: info@TheNewEnglandReCo.com
You can meet with any one of our Realtors / Brokers to set up an appointment to discuss the details in professionally marketing and listing your home or property for sale.
Thank you for inquiring about listing your home or property with our company today and we look forward in working together soon.
Additional skills we believe are important to you, our clients - Our Difference is our Brokers
What Maine Sellers want from a Realtor.
Here are 5 top expectations a seller wishes or wants in their Realtor:
Find a buyer for their home.
Sell their home within a specific time frame.
Price their home competitively.
Recommend ways to stage or fix up their home to have it sell for a higher profit and in a quicker time period.
Help with paperwork, inspections & properly preparing for settlement.
Things to consider: Choosing the best Realtor today.
Selling a home should be like any other business transaction, but all too often sellers make emotional or impulsive decisions that cost them money and time. Choosing the right Realtor to market your property and negotiate the sale is the most important step in the process.
You're the only Realtor who agrees with my selling price.
Some Realtors tell you what you want to hear. In the real estate profession, this is known as "buying a listing". A Realtor who lists a property at the highest possible price is using poor strategy and more importantly, doing you a disservice.
You see, your house gets the most attention from other Realtors when it is a "new" listing. If priced properly, lots of Realtors will show it to their buyers. If you price it too high, no one will show the house and it will sit on the market for some time. Keep in mind, Buyers today have direct access, again via the web, on all sold properties in the area and they know going in, where current home market values range.
When you finally drop or reduce your price to reflect its real value, your house is "old news" and buyers may think you are growing desperate. Therefore, the prices you are offered will come in lower and lower - and you may find yourself accepting a price that is well below what you could have received, had the house been priced properly to begin with. We see this over and over again. Besides, pricing your home too high will only make similar houses for sale look that much better. Overpricing helps sell those houses, not yours.

Do all Realtors have the same education
The real estate profession is constantly changing, especially today and, as mentioned above, the best real estate professionals stay aware of those changes by continuing their education.
Many go beyond the required minimum requirements and many brokers acquire "professional designations" that show they took additional specialized courses. In our company, we include an educational component within our sales meetings, each week of the year - that's 52x times more focus on advanced education and open discussion on key, relavant topics in today's increasingly more complicated real estate environment.
This focus, belief and practice in expanded and continued education is just one of the key points of differences' you'll find in working with the Realtors and Brokers in our company.
Using a Realtor who lives in my neighborhood
Knowledge of the local market isn't determined by living in that immediate neighborhood. Your chosen Realtor should have knowledge of recent sales, schools, businesses, and so on, but that is easily achieved through research - the true difference is the Realtor you have chosen, who is excited to know the differences of what makes your property stand out over others and helps communciate those key differences to interested buyers.
Look for a Realtor who has passion, education and excellent communication skills.
Look for a Realtor that consistently is a high producer of sales in the Midcoast, year after year with a true passion for the profession and / or simply demostrates to you that raw passion and belief that anything is possible and brings that energy to your listing to best position and sell your property.
Eitherway, Sellers are looking for a Realtor who will do the most effective job of marketing their property, negotiating the most favorable terms and conditions, and communicating with them to make the process as smooth as possible.
Please reach us at your convenience at 207.236.7000 or 888.236.7015 or feel free to contact us, email info@TheNewEnglandReCo.com, or visit our web page "Our Difference - Our Brokers".
Here you will find more helpful information about how our companies' Realtors and Brokers can best help you professionally market and represent the listing of your home or property - and successfully helping to sell it today vs. tomorrow.