Area Information
Read More
---
Read More
---
Read More
Welcome to your next vacation home in Maine!
Introducing On The Water In Maine! The Local's Premier Vacation Rental Choice.
Welcome to your one-stop source for everything related to Maine vacation homes - whether you're looking to buy your dream summer cottage with The New England Real Estate Company or you're dreaming of renting that perfect oceanfront property this year with On The Water In Maine. Relax. We have all your vacation home needs taken care of!
Waterfront Vacation Homes to Purchase.
If you are considering purchasing a property specifically for vacation home rentals in Midcoast Maine, our team of Realtors and Brokers will help identify the best buys on the market today in ocean, lake or quaint village rental homes. We would love to discuss more about what's most important when you purchase a home on the water for a future vacation home to enjoy and for potential vacation rental purposes.
Premier Vacation Homes for Rent.
We are proud to represent our exclusive marketing partners - On The Water In Maine. They simply are the best at Premier Vacation Rentals. Choose a beautiful vacation home, plus all the amenities you need for a spectacular stay in Midcoast Maine. Choose a beautiful vacation home, plus all the amenities you need for a spectacular stay in Midcoast Maine. From Boothbay to Belfast - and many points beyond! Find the right location on the coast for a spectacular Maine summer vacation. And don't forget the powerboat, canoe and kayak rentals along with vacation grocery provisioning services! Discover why people have been vacationing in Maine for over 100 years!
Please feel free to reach On The Water In Maine offices directly at 1.800.930.2561 or send an email to: inquiries@OnTheWaterInMaine.com and view all the vacation home listings of mainland and island properties from Cape Elizabeth to Milbridge - All within a five-minute walk to a lake, river or oceanfront at: www.OnTheWaterInMaine.com
Here are some of our most popular questions with our Vacation Home Owners.
I'm an owner of a vacation home and wish to list for the first time, our vacation home with On The Water In Maine.
Excellent! Please contact On The Water In Maine directly - they would love to hear from you! They can be reached at: owners@OnTheWaterInMaine.com and they will be glad to talk with you at your convenience!
I'm an owner of a vacation property and wish to still rent our home next summer but also list our home for sale with The New England Real Estate Company.
One of our most popular questions is, "Can I list my vacation home for sale and still have my home listed with On The Water In Maine for vacation rentals?"
The answer is yes! We work very closely with the entire team at On The Water In Maine to ensure your home is both shown professionally, while at the same time, never effecting your opportunities to keep your home active in the vacation home market!
We help coordinate all showings together - maintain excellent communications between both companies, always with you, our client's interest in mind first! Both our companies share the same business values and both put customer service first.
So whether your dream is to buy that perfect coast of Maine second home in the future or rent that perfect antique cape in town next summer - please look to us both at The New England Real Estate Company & On The Water In Maine to help you enjoy your next vacation in Maine!
Begin your Search of Maine's Premier Waterfront Vacation Rentals:
Read More
Quickly find our best recommendations for local Home Inspectors, Title Companies, Preferred Lenders, Quality Painters, Builder Contractors, and much more.
Search resources:
Building & Energy Efficiency Inspectors
Title Companies

Attorneys

Banks

Insurance Companies

Local Utilities

Oil & Gas Dealers

Home Improvements & Builders
Electricians
| Company | Contact | Tel # | Email | Website |
| --- | --- | --- | --- | --- |
| RDS Electric | Bob Stiehler | 207-607-0607 | rdselectric@roadrunner.com | |
| Broad Bay Electric | | 207-236-3380 | | |
| Justin Electric | | 207-763-4323 | | |
Plumbers

Paint Contractors
Septic Inspectors

Cleaning & Restoration

Landscaping & Property Management

Water Treatment & Testing

Engineering & Surveyers
Cellular Service

Security Systems
Read More
Retiring to Maine - or what we call "the next chapter."
Following your dream...The time has come for taking the steps to that next chapter in your life and all roads are leading you to Midcoast Maine.
Maine has become an extremely popular retirement or "semi-retirement" destination as many of our clients have discovered, voted one of the top locations to retire in the USA by numerous publications including, Forbes.com, Down East Magazine, Outside Magazine and AARP Magazine.
If you're looking for authentic Maine living, this is it. Together, our towns run almost the entire length of Penobscot Bay, perhaps the most scenic body of water on the eastern seaboard. Here you'll find scores of islands, more than a dozen historic lighthouses, and protected harbors filled with working lobster boats. Our inland towns are dotted with small farms and rolling hills, and woodlands waiting to be hiked.
Community
Living in Midcoast Maine will create a wealth of opporunities to meet many new friends of course and one of the best catalyst's to help introduce yourself within any new community is the unselfish act of volunteerism within one's new "adapted hometown". You'll easily discover warm introductions to numerous organizations that will excite and meet your personal passions and interests.
Community is the soul who we are within our company. As they say, "everything is local" and we are honored to volunteer and help support some of our favorite local causes and organizations - from YMCA youth basketball ("Go Windjammers!") - to Rotarian projects on our local hiking trails together with Coastal Mountains Land Trust - to our Midcoast Intreract student members helping to get the message out on ending Polio - to supporting our local animal shelter organization P.A.W.S. - to our local celebrities, Rosie & Opal at Hope Elephants and much more!
We all enjoy what matters to all of us most - the health of our family, our friends and our community - helping others be the best they can be in one very special part of the world here in Midcoast Maine.
Feeling welcome in a new location comes easier when you make contact with fraternal and community organizations, clubs, non-profit causes, and volunteer opportunities similar to those you enjoyed before. Our Midcoast area offers many ways you can share common interests and become involved.
The decision of where to relocate or retire is so personal. Many newcomers discover the region when they're here on vacation. Each Summer and Fall we hear our visitors remark, "This place is beautiful...We should move here!" And of course the Midcoast is gorgeous, but it offers much more than picture postcard scenery.
Safe, clean and vibrant Main Street communities showcase business and shopping opportunities much more diverse than you'd expect, thanks to our prominent coastal location. Strong educational and healthcare systems serve a broad population mix. And if you're near retirement and ready to play, you'll find a wealth of cultural and recreational choices - from bird watching to blues concerts, sea kayaking on the ocean to chairlift rides at the Camden Snow Bowl.
Communities in our area have received a variety of honors and recognition in recent years. Here are just some of the highlights of those honors!
Online Travel Website TripAdvisor has named Camden #8 in the top 10 most charming small towns in America.
Boston Magazine, in 2009 named Camden one of New England's Best Small Towns because of its "Main Street of all Main Streets."
In 2010, Camden Harbor, which our offices overlook in our first office location, was voted the prettiest in Maine by the readers of Down East Magazine.
In 2011, Camden was named the third best foliage town in New England, according to a poll conducted on YankeeFoliage.com, Yankee Magazine's fall foliage Website.
In 2008 and 2009, Rockport was dubbed one of America's prettiest towns by Forbes Traveler Magazine.
The late newsman and sailer Charles Kuralt said that if he had 365 days left to spend, he would spend 364 of them at Rockport's beautiful harbor.
National Geographic named Rockland the "Top Adventure Town in Maine to Live and Play" in 2010.
That same year, Rockland was chosen as a Distinctive Destination by the National Trust for Historic Preservation.
Coastal Living featured Rockland in its Dream Town department in 2011.
Rockland placed #2 in the Budget Travel reader poll for coolest small towns in America, and has become a popular destination for the Food Network.
Rockland has what Down East Magazine referred to as "Midcoast Maine's most beautiful ocean walk."
In 2012, This Old House selected Rockland's Limerock Street as one of the best old house neighborhood towns in the northeast, sharing the spotlight with many other charming and welcoming communities in New England.
Also this year, The Today Show included Rockland's Maine Lobster Festival in a segment about Summer's Best US Festivals.
Lincolnville has been honored as one of Outside Magazine's Top Dream Towns.
According to Departures, the magazine for American Express cardholders, one of the world's 10 most scenic walks is the Bald Rock trail in Camden Hills State Park. Listed alongside The philosopher's Path in Kyoto, Japen and the Sossuslevi Dunes of Namibia, the Bald Rock trail is one of only two walks in the United States on the list.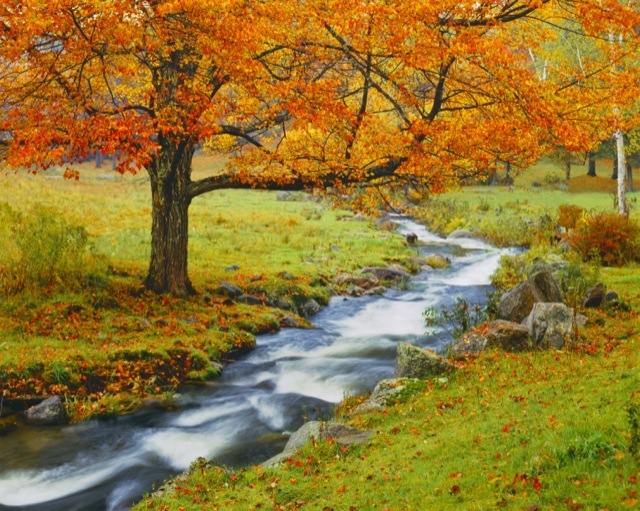 It may sound corny, but this area has a magical difference where small town values, community and local cooperation helps make all the difference in the world and the small moments count. From your first visit here, you might notice many special moments - the scent of low tide. Fields of lupines in June. Starry skies in summer and full moon nights over the water in wintertime. Putting groceries "on account" at the local market. Walking downtown, saying "hello - again" on the sidewalk, at the post office and in our restaurants, Maine is simply, a very special place to be.
Of course, no place is perfect, but we agree wholeheartedly with author and transplant E.B. White, who said, "I would rather feel bad in Maine than feel good anywhere else."
Please reach us at your convenience at 207.236.7000 or 888.236.7015 or feel free to send us an email to: info@TheNewEnglandReCo.com or visit our web page "Our Difference - Our Brokers" to learn more about the many opportunities in relocating or retiring in Maine and beginning your search today.
Also, please click into most popular web page section called "Search Towns" and begin you're next chapter now. Here you will quickly see 45 different towns in Midcoast Maine - all showing you properties which you have talked and dreamed about. Many you may have even driven past for years and never seriously considered living in before but are happily surprised just how nice of communities they are.
We look forward to helping you find that special place here in Midcoast Maine and on behalf of all of us here at The New England Real Estate Company, "Welcome Home!"
Read More
---
A Premier Maine Coast Property
Welcome to The Homes at Ducktrap Retreat. With the Ducktrap River gently wrapping around the property and reaching to the Atlantic Ocean, The Homes at Ducktrap Retreat celebrates all that is Maine coastal living. Quality built, secluded in nature and packed with amenties, you feel at peace as soon as you arrive.
We invite you to visit The Homes at Ducktrap Retreat. Whether for an occasional getaway or a permanent escape, you'll cherish every moment.
Home Ownership Benefits
A Private Gated Community with 18 Homes nestled among 30 acres of picturesque property overlooking Penobscot Bay in mid-coast Maine, with 40% of the surrounding wooded land held in Conservation Protection forever.
Individual Single Family Cabins and Duplex Homes with Private Garages and Storage Facilities.
A Water and Rock Adirondack-Inspired In-ground Swimming Pool, Bathhouse, Community Fire Pit and Tennis Court for owners and their guests to enjoy.
Walking trails through Osprey Circle, Eagle Point Road and the Ducktrap Nature Trail with Private Access to the Ducktrap River.
An on-site utility building and equipment storage for performing on-site maintenance for lower HOA costs.
Contact us today for arranging an appointment for visiting our newest Model Homes.
Please schedule your private showing by contacting us at 207.236.7000 or 888.236.7015 today!
The Homes at Ducktrap Retreat are exclusively represented by The New England Real Estate Company. Please ask for Listing Brokers, A. Flint Decker at 207.236.7000, extension 10 or Chuck Brawn at 207.236.7000, extension 19 or please contact your preferred local real estate broker.
Read More
Whether you are planning on relocating or taking a vacation, find out all that Midcoast Maine has to offer! Scroll down to find links to local resources, events and attractions. Feel free to contact us for more information or any questions.
Click here to find additional area info. View our recommended search categories for current listings in Midcoast Maine.
Start you search here:
---
What To Do & See
Chamber of Commerce
Pen Bay Chamber of Commerce

Serving Camden, Rockport, Rockland, Lincolnville, Thomaston, Saint George, South Thomaston, Port Clyde, Owls Head
Belfast Area
Chamber of Commerce
SERVING Belfast, Belmont, Brooks, Burnham, Frankfort, Freedon, Isleboro, Jackson, Knox, Liberty, Montville, Morrill, Northport, Palermo, Prospect, Searsmont, Searsport, Stockton Springs, Swanville, Thorndike, Troy, Unity, Waldo and Winterport.

Damariscotta Regional Chamber

Serving Alna, Bremen, Bristol, Damariscotta, Edgecomb, Jefferson, Monhegan Island, Newcastle, Nobleboro, South Bristol, Waldoboro
Outdoor Activities
Camden Hills
State Park
Camden Hills State Park signature location is the scenic vista high atop Mt. Battie where sweeping views of Camden, Penobscot Bay, and surrounding islands await. On a clear day, visitors can see Cadillac Mountain at Acadia National Park. Mt. Megunticook, the highest of the Camden Hills - and highest peak on the mainland - is a moderate climb by foot trail. Other hiking opportunities abound and are well-mapped. Download a trail map.
Our selection of Day Tours can accommodate just about any skill level, schedule and budget.

Ragged Mountain Recreation Area

The Camden Snow Bowl is a community owned ski area and really is "where the mountains meet the sea". In addition to alpine skiing and snowboarding, there is snow tubing, ice skating and a thrilling 400' toboggan chute (home of the US Toboggan Nationals). A year round recreation area, the Snow Bowl offers hiking, mountain biking, tennis, ball fields and a summer camp. In the autumn, there are pancake breakfasts, chairlift rides and a mountain festival. Facility rentals are available all year.

Coastal Mountain Land Trust Hiking

For a self-guided tour of three of our most popular and scenic preserves: Beech Hill, Fernalds Neck, and Bald Mountain Preserves:

Georges River Land Trust Hiking

Public access to areas of the Georges River watershed region is an important aspect of our mission and we invite you to explore our conservation properties or take a hike on our Georges Highland Path trail network. You can see for yourself what makes this area so special.


Coastal Maine Botanical Gardens

W

e invite you to experience Coastal Maine Botanical Gardens' spectacular 250-acre landscape. Our gardens, trails, and wild spaces are uniquely beautiful and always full of surprises, no matter what the season. Admission is free from November through March.




Aldermere Farm

Aldermere Farm, a landmark of midcoast Maine, is one of the world's premier breeders of Belted Galloway cattle. The 136-acre farm is owned and managed by Maine Coast Heritage Trust, a statewide land conservation organization dedicated to protecting the scenic beauty, outdoor recreational opportunities, ecological diversity, and working landscapes of the Maine coast. The Trust maintains Aldermere as a working farm and educational center, helping visitors deepen their appreciation for land conservation and sustainable agriculture.
Golf Courses
Local Conferences
| Conference | Description |
| --- | --- |
| | PopTech brings together a global community of innovators from many fields to share insights and work together to create lasting change. One of the highlights of the PopTech experience is the location of the event itself — Camden, Maine. Just 90 minutes north of Portland, Camden is a stunning, sea-side New England town and you'll be joining us during one of the most beautiful times of the year — peak fall foliage season. |
| Camden Conference | The Camden Conference was founded in 1987 as a nonprofit, non-partisan educational organization whose mission is to foster informed discourse on world issues. In the years since, it has convened its annual Conference on the third weekend of February in the historic Camden Opera House, drawing some of the best minds on foreign policy to share their insights and expertise on a range of global issues with the community. Conference topics have included The Making of American Foreign Policy, The Influence of the News Media on Foreign Policy, US-Japan Relations, Globalization, The Politics of Energy and Water, Religion, Global Leadership and a number of conferences focusing on regions of the world. |
Arts & Entertainment
Museum or Gallery
Description
Farnsworth Museum & Wyeth Center

Celebrating Maine's Role in American Art, the Farnsworth Art Museum offers a nationally recognized collection of works from many of America's greatest artists. With 20,000 square feet of gallery space and over 10,000 works in the collection, there is always something new on view at the Farnsworth. The museum has one of the nation's largest collections of works by sculptor Louise Nevelson. Its Wyeth Center features works of Andrew, N.C. and Jamie Wyeth

The Owls Head Transportation Museum has one of the finest collections of pioneer-era aircraft and automobiles in the world. More than 100 historic aircraft, automobiles, bicycles, carriages and engines are on permanent display.

Celebrating the maritime culture of Penobscot Bay and beyond!

The Camden- Rockport Historical Society is located near the town line of Rockport and Camden, Maine, and maintains the Conway Homestead and grounds, which include the Conway House and Barn, Maple Sugar House, Blacksmith Shop, Victorian Gardens, Caretaker's Cottage, and the Cramer Museum.

The Robbins House is usually open from 9:30 A.M. to 12:00 noon on Tuesday, Wednesday and Saturday mornings. You are welcome to visit us and enjoy the displays. Society volunteers will be glad to assist you in your research related to Union history and genealogy.

The School House Museum of the Lincolnville Historical Society is located on the second floor of the 1892 building known as the Beach School. Class for all eight grades was held in this room until 1947 when the town of Lincolnville built a consolidated school five miles inland in Lincolnville Center. In 1994 the Historical Society moved its collection into the restored school room and began to create a museum

The General Henry Knox Museum is a not-for-profit organization dedicated to maintaining Montpelier as a museum and fostering a greater understanding and appreciation of General Knox's life and times, and providing educational, cultural, and community events

Our Camden gallery is located in a classically beautiful coastal village with a fine harbor--a popular stopping place for cruising sailing craft from all over the world. Camden has become the destination for tourists not only from nearby New England and mid-Atlantic origins but for an increasing number of guests from across America and beyond. Camden, where the mountains meet the sea, boasts an environment rich in outdoor opportunities, coupled with proximity to The Farnsworth Museum in Rockland and The Penobscot Marine Museum in Searsport.

Thomas O'Donovan moved to Maine in 1981 to open his first studio and gallery in Camden. Today, he continues to provide the vision as artistic director of Harbor Square Gallery, while crafting and designing his unique, signature pieces in collaboration with master carver and goldsmith Glade Sarbach Davis in their studios. O'Donovan lives in the Maine woods with his Golden Retriever, Sophie.

Dowling Walsh Gallery
365 Main Street
PO Box 524
Rockland, Maine 04841
207.596.0084
info@dowlingwalsh.com

The mission of the Maine Lighthouse Museum is to educate the public regarding the long standing traditions, heroism and progress of America's Lighthouse and Lifesaving services and the United States Coast Guard through the conservation and interpretation of the nation's most significant collection of lighthouse and lifesaving artifacts. The Maine Lighthouse Museum is located in Rockland, Maine, the heart of the Midcoast. From sparkling lenses to heartwarming stories of the keepers and their families, the Maine Lighthouse Museum is truly America's lighthouse museum.

The Historic Strand Theatre, located in downtown Rockland on the coast of Maine, has been entertaining audience's since 1923. Listed on the National Register of Historic Places, the theatre underwent an extensive renovation in 2005, which included new sound and projection equipment, a fully restored interior and exterior, and a bright new marquee
Read More